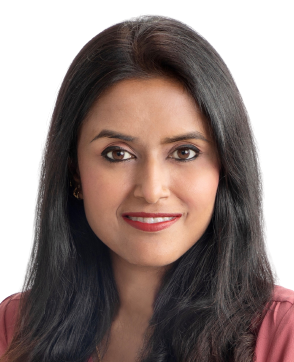 Sanskriti is a Senior Director in GCP's Portfolio & Operations team. She has 15+ years of experience working with businesses in Consumer and Retail sectors both as an operator in Private Equity as well as a brand manager at P&G.
Prior to joining Growtheum, Sanskriti was the Lead Operator, Consumer & Retail, at Partners Group. She led the strategy and transformation workstream at various portfolio companies including TOUS Jewelry in Spain, Green Tea Restaurant in China and Scheich in Germany.
Previously Sanskriti worked at P&G as Director, Corporate Analytics and Insights where she was involved in operationalizing strategies at both corporate and brand level. Some noteworthy assignments included defining strategy for Naturals in APAC, Pampers Pants globally, and launch of Joy dishwashing liquid in SEA. Sanskriti was also involved in business operations and demand planning for SK-II and Duracell batteries during her initial years in supply chain management at P&G.
Sanskriti also worked at the Singapore Economic Development Board in the role of as Head, Strategic Planning, where she tasked with increasing corporate innovation activity in Singapore.
Sanskriti is passionate about training and coaching and has been lead trainer on Consumer Insights, Brand Equity, Behavioral Science, Competitive Strategies and Value Creation at her previous organizations. She has a special interest in coaching and mentoring women leaders. She holds an Executive MBA and a Bachelor's degree in Electrical Engineering from the National University of Singapore.